Applies to
Summary
This article demonstrates how to install and manage the application through the graphical user interface from any workstation in the network.
Description
ApexSQL Audit as the SQL Server auditing solution stores the relevant information on the auditing trail and configuration data in a Central Repository database that is used to manage the application feature and tasks trough the graphical application interface.
Therefore, as a prerequisite, it is always good to start with installing the ApexSQL Audit and the central repository, as explained in this installation article before opted to proceed with the installation of the remote graphical user interface.
Once the installation is complete on the central server, the next step is to define additional users and the application roles accordingly to the persona's level of authority based on three possible choices:
Administrator
Power-user
Reader
More details on application roles and how to allow or deny controls for the users can be found in Solution 1 paragraph of this quick access control article.
Installation
After the central repository and application roles are configured the next and final step is to proceed with the installation of the application graphical user interface on the targeted machine by running the installer: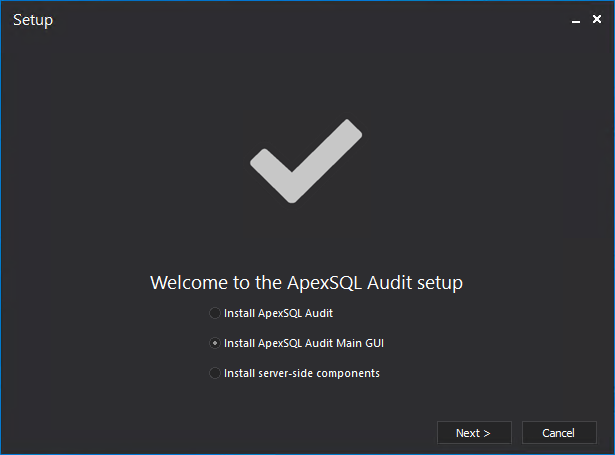 In the first step of the wizard, proceed with the second option Install ApexSQL Audit Main GUI and proceed further with the installation steps. Upon successful install, the last step will allow you to run the ApexSQL Audit Main GUI automatically: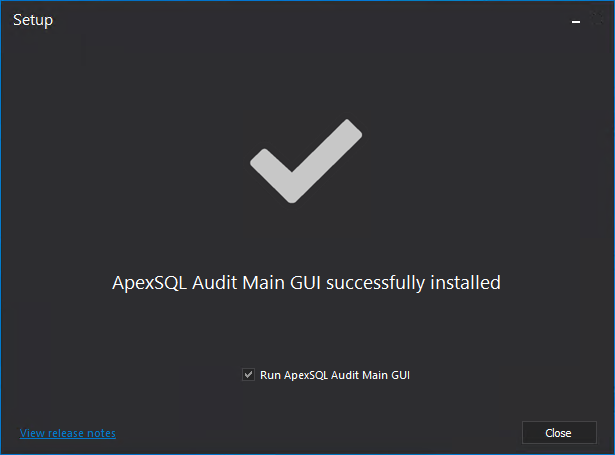 The next and last step is to subscribe on the central repository database by providing the windows machine name of the central repository and TCP port that allows bi-directional communication between the two clients in the network: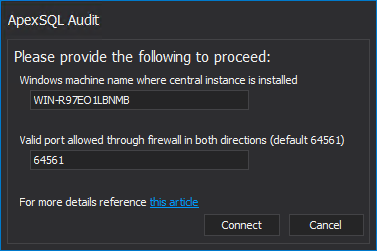 With the last step performed, the remote GUI will be ready for use from the remote machine and manage the application accordingly to the assigned application role type: