Applies to
ApexSQL Search
Summary
This article describes the benefits of using the Safe rename feature.

Description
The Safe rename refactor changes the name and schema of:
Tables
Views
Stored procedures
Functions
Columns
Parameters
without breaking any dependencies. It allows users to rename or change the schema of encrypted objects as well as of objects stored in databases encrypted with Transparent Data Encryption (TDE).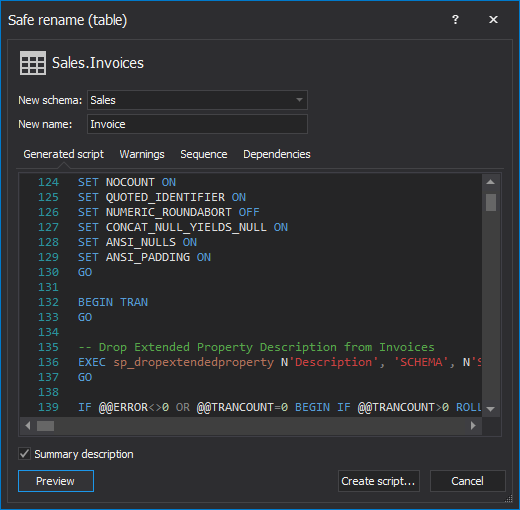 Quick tip:

The minimum permissions required to use Safe rename are:

Public role membership on the searched SQL Server instance,
Connect
Control and
View definition on the searched database

To search encrypted objects, in addition to the above:

View any definition has to be granted on the searched SQL instance
See also
ApexSQL Search – Search phrases, history and results
ApexSQL Search – Object search
ApexSQL Search – Text search
ApexSQL Search – Safe rename
Last updated
November 20, 2014