Problem Description
The account running central or distributed service/process needs to be changed.
Cause
The general cause for this is encountered when user permissions are or need to be changed or similar.
Resolution
SOLUTION 1 – Central service/process
In order to change the login running the central service and the process, the application reinstall must be performed.
ApexSQL Audit can be installed either by:
Running the ApexSQLAudit.exe installation file
Running the ApexSQL.Audit.Installer.exe file from the installation directory (default location is C:\ProgramFiles\ApexSQL\ApexSQL Audit\ApexSQ.Audit.Installer.exe)
Regardless of the choice of re-install approach, the ApexSQL Audit central instance setup dialog is shown and will prompt for input.
To perform the installation process:
Provide Username (ensure they have Windows administrator credentials)
Enter Password
Click on the Install button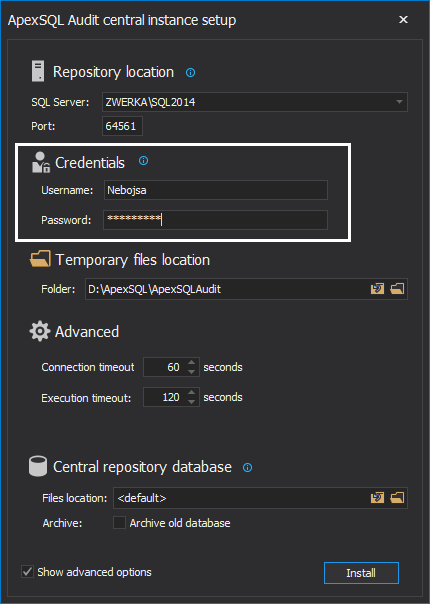 After short processing, ApexSQL Audit reinstall will be completed and service/process will now be running under newly configured login.
SOLUTION 2 – Distributed (remote) service/process
User login running the remote agent can be quickly changed from within ApexSQL Audit GUI.
To start the process:
Start ApexSQL Audit and click on the Configure button in the main ribbon
Select the SQL Server instance where the account that will be changed is running
Click on the Edit button
In the Auditing agent properties dialog, provide valid username and password
Click OK to complete the process